Doctors & Staff
Meet the experienced and friendly doctors and staff who make Front Range Eye Associates the leading provider of vision care products and services in Broomfield.
---
Mary Anne C. Murphy, O.D.
Dr. Murphy's college career began at the United States Air Force Academy where she majored in Physics. After a few years, she moved to California and completed her undergraduate degree at U.C. Berkeley. She went on to complete an additional four years of optometric doctoral training at U.C. Berkeley graduating in 2002. She received multiple honors throughout her graduate career including: – Golden Retinoscope for Outstanding Graduate Student – George I. Deane Memorial Leadership Award – RGPLI Award for Excellence in Contact Lens Fitting – Corrine Engall Award for Excellence in Pediatric Care – Vision Service Plan Award for Primary Care Excellence, and – Marchon Award for Excellence in Ophthalmic Dispensing. Dr. Murphy was selected to perform her internships at leading eye clinics across the nation. She completed specialty healthcare training in ocular disease at Bascom Palmer Eye Institute, Miami, FL and received advanced training in primary care and dry eye at Lovelace Eye Hospital, Albuquerque, NM. Immediately upon graduation, Dr. Murphy moved to the Front Range to begin her career. She is now an active member of the Colorado Optometric Association and the American Optometric Association. She currently serves on Advisory Boards for several ophthalmic industry companies. She speaks professionally, educating her colleagues on behalf of companies such as Bausch & Lomb, Allergan, and Synergeyes specialty hybrid contact lenses. She also serves on the board of industry companies.  Additionally, she worked with the industry's leader to develop software used by eye doctors around the country. She continuously completes post-graduate training at prestigious institutions across the country. Dr. Murphy grew up in a small town in Northwest Indiana. Through college, she worked as an optician and decided on the career of optometry very early. Dr. Murphy is the proud mother of two rambunctious children. She enjoys hiking, skiing, golf and anything else that takes her into the mountains.
* Schedule an appointment with Dr. Murphy 
---
Shira L. Pipkin, O.D.
Dr. Pipkin is a proud Colorado native. After attending Cherry Creek High School and Colorado State University, where she majored in Biological Sciences, Dr. Pipkin graduated cum laude from Southern College of Optometry in Memphis, Tennessee in 2011. During the four years she was completing her optometric doctoral training, she was an active member of Gold Key Honorary Optometric Society and Beta Sigma Kappa Honorary Scholastic Fraternity, both of which recognize students for leadership and academic excellence. While in school, she was awarded the Walman Optical Scholarship, as well as the Optometry Award for Excellence in Ocular Disease. She was recognized by Who's Who Among Students in American Universities and Colleges, based upon academic achievement, community service, leadership and potential for continued success. After receiving state of the art clinical training while in Memphis, Dr. Pipkin returned to Colorado for her internships where she completed specialty training in ocular disease, contact lenses, and pediatrics.  Dr. Pipkin is an active member of the Colorado Optometric Association and served as the President for the local Denver Metro Optometric Society.  Dr. Pipkin is passionate about serving her community and providing the best vision care possible. She feels fortunate to call Broomfield home along with her husband Dan and two daughters.
* Schedule an appointment with Dr. Pipkin *
---
Marisa A. Perez, O.D., F.A.A.O
After living and traveling coast to coast, Dr. Perez and her family found true home to be in Colorado. She was raised in Northern California, where she received her Bachelor of Science in Biological Psychology from U.C. Davis in 2001. She then obtained her Doctor of Optometry degree with honors from U.C. Berkeley in 2006. During that time she was awarded the Vision Service Plan Scholarship and the U.C. Berkeley Optometric Performance Grant for Excellence in Primary Care, the Greenwood Family Memorial Award for Outstanding Patient Management Skills, the Michael Harris Family Award, and the Shanaz Rafinejad Eyewear Center Award for Excellence in Ophthalmic Dispensing. Following graduation, Dr. Perez completed a one year residency in Ocular Disease at the prestigious Bascom Palmer Eye Institute in Miami, Florida. She fell in love with Colorado after joining a private practice in the Front Range for a short period of time before getting married and returning to Florida to practice as a full time faculty member at NOVA Southeastern University College of Optometry as Assistant Professor. After four years, the song of the mountains once again called to her and she is now a proud (permanent!) resident and eye care provider of the Front Range. She has authored and presented posters in various topics in ocular disease and primary care at the American Academy of Optometry (AAO) meetings where she continues to receive post-graduate continuing education. She obtained her Fellowship from the AAO in 2010 in Ocular Disease and is published in Optometry: Journal of the American Optometric Association. She also continues to teach by providing online continuing education courses through NOVA Southeastern College of Optometry. Dr. Perez is a member of the Colorado Optometric Association, American Optometric Association, and the American Academy of Optometry. Dr. Perez enjoys hiking, skiing and camping with her husband and 2 children.
* Schedule an appointment with Dr. Perez *
---
Tracy L. Aigner, O.D.
Dr. Aigner grew up in Fort Collins. She graduated cum laude from Colorado State University with a degree in Biological Sciences in 2002. She then completed her Doctor of Optometry degree with highest honors from Pennsylvania College of Optometry in 2006. During her four years of optometric training, she was awarded multiple scholarships and awards, including the Cooper Vision Excellence in Contact Lens Award, Vision Service Plan Scholarship for Clinical Excellence, Gas Permeable Lens Institute Award of Clinical Excellence, Presidential Scholarship, and E.F. Wildermuth Memorial Scholarship. She was also chosen to be a member of the Beta Sigma Kappa Honorary Society and Phi Beta Kappa Honorary Society. She completed internships and was awarded clinical excellence in ocular disease, contact lenses, low vision, primary care and pediatrics. After graduating, Dr. Aigner co-wrote a chapter in a corneal surgery textbook about central corneal thinning and perforation. She continues to stay up to date with the latest advancements and technology in optometry through continuing education courses. She started her career in Maryland before moving back to Colorado. She is an active member of the Colorado Optometric Association and the American Optometric Association. Dr. Aigner enjoys spending time with her 2 sons, running and skiing.
* Schedule an appointment with Dr. Aigner*
---
Emily, Certified ParaOptometric

Emily joined our team in September 2018.  She is new to Optometry, but has a passion for healthcare, and recently graduated with a degree in Biology and Chemistry.  A Colorado native, Emily enjoys hiking and dancing.  Emily also loves going to concerts and exploring Colorado.
---
Karra, Certified ParaOptometric Technician, NCLE
Karra joined Front Range Eye Associates in September 2009. She brings to FREA years of customer service experience and a bright smile. Karra has a degree in Sociology. In 2010 she completed her Level II ParaOptometric Certification, in 2017 she completed her National Contact Lens Examiner Certification, and in 2020 she completed her Level III ParaOptometric Certification, making her even more qualified to provide the highest level of eye care to FREA patients.  In her free time, Karra enjoys baking.
---
Michelle, Certified ParaOptometric Assistant, NCLE
Michelle has been in the Optometry field for over eight years and loves teaching people how to put contact lenses in. Michelle has her degree in Psychology and was previously working in a mental health facility. In her free time Michelle likes going hiking, fishing, and camping.
---
Marisa, Certified ParaOptometric

Marisa joined Front Range Eye Associates in September 2018 with experience as a ParaOptometric for 3 years. A Colorado native, Marisa is currently working on acquiring her ParaOptometric certification to continue providing the highest level of care to our patients.
---
Mimi, Optometric Technician
Photo and details to come.
Sabrina, Optometric Technician
Photo and details to come.
Amy, Certified Optician, Optical Lab Manager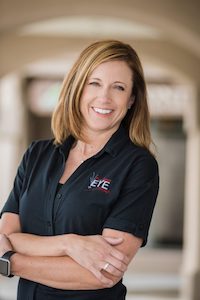 Amy brings to FREA over 18 years of experience in the optometric industry. Amy attended Front Range Community College and Aims Community College. Amy is a certified optician and is here to help or assist you with any issues or questions you may have with your eye wear. Amy's passion is helping children with their first pair of glasses and helping you find the perfect style in frames. When not working Amy keeps busy with her two boys and husband going camping and fishing or just enjoying the outdoors.
---
Daniel, Certified Optician
Daniel joined Front Range Eye Associates in January 2014 and brings over 8 years of opticianry experience with him. Daniel is working on becoming an American Board Certified Optician. He has experience in frame styling, optical troubleshooting, frame adjustments, and patient customer care. Daniel continues his training to make sure patients are delivered the most up to date technology and glasses that best meet their needs. Daniel is a Colorado native is bilingual and loves camping, fishing, and spending time with family.
---
Breanna, Certified Optician
Photo and details to come.
---
Cheri, Certified ParaOptometric, Patient Care Representative
Cheri joined the team in March 2017. Cheri has lived all over the U.S. but has enjoyed living in Colorado for the past seven years. Cheri has extensive customer service training. In her free time she enjoys spending time with her family, and hiking.
---
Ashley, Patient Care Representative
Photo and details to come.
---