Doctors & Staff
Meet the experienced and friendly doctors and staff who make Front Range Eye Associates the leading provider of vision care products and services in Broomfield.
---
Mary Anne C. Murphy, O.D.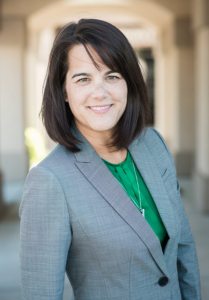 Dr. Murphy grew up a military child and spent time in Illinois, Canada, Indiana, and Massachusetts. Dr. Murphy's college career began at the United States Air Force Academy where she majored in Physics. After a few years, she moved to California and completed her undergraduate degree at U.C. Berkeley. She went on to complete an additional four years of optometric doctoral training at U.C. Berkeley graduating in 2002. She received multiple honors throughout her graduate career including: – Golden Retinoscope for Outstanding Graduate Student – George I. Deane Memorial Leadership Award – RGPLI Award for Excellence in Contact Lens Fitting – Corrine Engall Award for Excellence in Pediatric Care – Vision Service Plan Award for Primary Care Excellence, and – Marchon Award for Excellence in Ophthalmic Dispensing.
Dr. Murphy was selected to perform her internships at leading eye clinics across the nation. She completed specialty healthcare training in ocular disease at Bascom Palmer Eye Institute, Miami, FL and received advanced training in primary care and dry eye at Lovelace Eye Hospital, Albuquerque, NM.
Immediately upon graduation, Dr. Murphy moved to the Front Range to begin her career. She is now an active member of the Colorado Optometric Association and the American Optometric Association. She currently serves on Advisory Boards for several ophthalmic industry companies. She speaks professionally, educating her colleagues on behalf of many of the industry's best companies. She also serves on the board of several industry companies. She has been voted as an industry Optometric Business Innovator and one of Optometry's Most Influential Women.
Additionally, Dr. Murphy worked with the industry's leader to develop software used by eye doctors around the country. She continuously completes post-graduate training at prestigious institutions across the country. Through college, she worked as a licensed optician and decided on the career of optometry very early.
Dr. Murphy is the proud mother of two teenage children. She enjoys hiking, skiing, fly fishing and anything else that takes her into the mountains.
* Schedule an appointment with Dr. Murphy 
---
Shira L. Pipkin, O.D.
Dr. Pipkin is a proud Colorado native. After attending Cherry Creek High School and Colorado State University, where she majored in Biological Sciences, Dr. Pipkin graduated cum laude from Southern College of Optometry in Memphis, Tennessee in 2011.
During the four years she was completing her optometric doctoral training, she was an active member of Gold Key Honorary Optometric Society and Beta Sigma Kappa Honorary Scholastic Fraternity, both of which recognize students for leadership and academic excellence. While in school, she was awarded the Walman Optical Scholarship, as well as the Optometry Award for Excellence in Ocular Disease. She was recognized by Who's Who Among Students in American Universities and Colleges, based upon academic achievement, community service, leadership and potential for continued success.
After receiving state of the art clinical training while in Memphis, Dr. Pipkin returned to Colorado for her internships where she completed specialty training in ocular disease, contact lenses, and pediatrics. Dr. Pipkin is an active member of the Colorado Optometric Association and served as the President for the local Denver Metro Optometric Society.
Dr. Pipkin is passionate about serving her community and providing the best vision care possible. She feels fortunate to call Broomfield home along with her husband Dan and two daughters.
* Schedule an appointment with Dr. Pipkin *
---
Marisa A. Perez, O.D., F.A.A.O
After living and traveling coast to coast, Dr. Perez and her family found true home to be in Colorado. She was raised in Northern California, where she received her Bachelor of Science in Biological Psychology from U.C. Davis in 2001. She then obtained her Doctor of Optometry degree with honors from U.C. Berkeley in 2006. During that time she was awarded the Vision Service Plan Scholarship and the U.C. Berkeley Optometric Performance Grant for Excellence in Primary Care, the Greenwood Family Memorial Award for Outstanding Patient Management Skills, the Michael Harris Family Award, and the Shanaz Rafinejad Eyewear Center Award for Excellence in Ophthalmic Dispensing.
Following graduation, Dr. Perez completed a one year residency in Ocular Disease at the prestigious Bascom Palmer Eye Institute in Miami, Florida. She fell in love with Colorado after joining a private practice in the Front Range for a short period of time before getting married and returning to Florida to practice as a full time faculty member at NOVA Southeastern University College of Optometry as Assistant Professor. After four years, the song of the mountains once again called to her and she is now a proud (permanent!) resident and eye care provider of the Front Range.
She has authored and presented posters in various topics in ocular disease and primary care at the American Academy of Optometry (AAO) meetings where she continues to receive post-graduate continuing education. She obtained her Fellowship from the AAO in 2010 in Ocular Disease and is published in Optometry: Journal of the American Optometric Association. Dr. Perez is a member of the Colorado Optometric Association, American Optometric Association, and the American Academy of Optometry.
Dr. Perez enjoys hiking, skiing and camping with her husband and 2 children.
* Schedule an appointment with Dr. Perez *
---
Tracy L. Aigner, O.D.
Dr. Aigner grew up in Fort Collins. She graduated cum laude from Colorado State University with a degree in Biological Sciences in 2002. She then completed her Doctor of Optometry degree with highest honors from Pennsylvania College of Optometry in 2006.
During her four years of optometric training, she was awarded multiple scholarships and awards, including the Cooper Vision Excellence in Contact Lens Award, Vision Service Plan Scholarship for Clinical Excellence, Gas Permeable Lens Institute Award of Clinical Excellence, Presidential Scholarship, and E.F. Wildermuth Memorial Scholarship. She was also chosen to be a member of the Beta Sigma Kappa Honorary Society and Phi Beta Kappa Honorary Society. She completed internships and was awarded clinical excellence in ocular disease, contact lenses, low vision, primary care and pediatrics.
After graduating, Dr. Aigner co-wrote a chapter in a corneal surgery textbook about central corneal thinning and perforation. She continues to stay up to date with the latest advancements and technology in optometry through continuing education courses. She started her career in Maryland before moving back to Colorado. She is an active member of the Colorado Optometric Association and the American Optometric Association.
Dr. Aigner enjoys spending time with her 2 sons, running and skiing.
* Schedule an appointment with Dr. Aigner*
---
Carrie M. Burleson, O.D.
Dr. Burleson grew up in Kansas, Wyoming and Missouri, but has called Colorado home since 2002. She received her Bachelor of Arts degree in Biology from the University of Kansas in 1998 and is a 2002 graduate with honors from the University of Missouri-St. Louis College of Optometry. During her fourth year of optometry school, she completed externships in ocular disease management, contact lens patient care, primary care, and pediatrics/binocular vision. Throughout her schooling, she received numerous scholarships and awards for optometric academic excellence and leadership including the Robert A. Koetting Scholarship, the Bellingrath Scholarship, the William R. Jackson Scholarship and Class Marshall for the class of 2002. She was also a member of the Beta Sigma Kappa Honor Society.
Dr. Burleson is an active member of the American Optometric Association, the Colorado Optometric Association, the Denver Metropolitan Optometric Society and is a past board member of the Vision and Learning Forum. She has served on the Children's Vision Committee of the COA and is an InfantSee volunteer.
In her free time she enjoys running, hiking, skiing and spending time with her husband, two daughters and a variety of pets.
* Schedule an appointment with Dr. Burleson*
---
Karra, Certified ParaOptometric Technician, NCLE
Karra joined Front Range Eye Associates in September 2009. She brings to FREA years of customer service experience.
Karra has a Bachelor's Degree in Sociology. In 2020 she completed her Level III ParaOptometric Certification, along with her National Contact Lens Examiner Certification in 2017. These certifications and experience make her thoroughly qualified to provide the highest level of eye care to FREA patients. While in the office, she is often seen ordering contact lenses, and assisting staff with training and growth.
In her free time, Karra enjoys baking, running and quality time with her family.
---
Marisa, Certified ParaOptometric
Marisa joined Front Range Eye Associates in September 2018 with experience as a ParaOptometric for 3 years.
A Colorado native, Marisa is currently working on acquiring her ParaOptometric certification to continue providing the highest level of care to our patients.
---
Sabrina, Optometric Technician
Sabrina joined the FREA Team in 2020 and is working on getting her Certified Paraoptometric Certification. She received her certificate in Medical Assistance along with Phlebotomy in 2015 and has been in healthcare since.
In her free time she loves to bake and hike with her cat and dog. Yes, you read that right, she hikes with her cat.
---
Daniel, Certified Optician, ABOC
Daniel joined Front Range Eye Associates in January 2014 and brings over 8 years of opticianry experience with him. Daniel is working on becoming an American Board Certified Optician.
He has experience in frame styling, optical troubleshooting, frame adjustments, and patient customer care. Daniel continues his training to make sure patients are delivered the most up to date technology and glasses that best meet their needs.
Daniel is a Colorado native is bilingual and loves camping, fishing, and spending time with family.
---
Taylor, Certified ParaOptometric
Taylor joined Front Range Eye Associates in 2021. Since becoming part of the FREA family, she has received her ParaOptometric certification, and plans on obtaining her next level certification in 2023. Taylor is crossed trained to assist at the front desk, and has previous optical experience making her readily available to assist you.
Taylor loves spending time with family, and her dog, Gabbi during her free time.
---
Brittany, Lead Patient Care Representative
Brittany joined Front Range Eye Associates in October of 2021. Since joining the FREA family, she has received her Associates Degree in Healthcare Administration. She plans on obtaining her ParaOptometric Certification in 2023.
Brittany is a Colorado native, and previously obtained her cosmetology license before deciding healthcare better suits her goals.
Brittany is bilingual (Spanish) and in her free time enjoys the outdoors with her children and family.
---
Whitney, CPC, ELI-MP, Chief Growth Officer & Practice Administrator
Whitney comes to Front Range Eye Associates with over 20 years of experience in Ophthalmology and Optometry Practice Administration and Leadership Development. She holds a BFA in Liberal Arts, as well as a Certification in Ophthalmic Billing, an ELI-MP (Energy Leadership Index- Master Practitioner) Certificate, and is a Certified Professional Coach.
During her career, Whitney has developed programs for Practices and Team Members to provide the highest level of Patient experience. She is passionate about making a difference in the lives of the people around her and strives to bring out the best in herself and others. She takes pride in continuously aiming to show up as her best self and wants to challenge others to do the same. She is passionate about helping cultivate a culture that allows people to grow personally and professionally, which, in turn, she believes creates a wonderful atmosphere for all who walk through our doors.
In her spare time, she loves fueling her soul with some of the things she cares deeply about such as family time, connecting with others, exercising, getting lost in nature, music, art and good food.
---
Jennifer, Patient Care Representative
Jen is a Colorado transplant of 7 years. She enjoys being outdoors with her family and two Yorkies. She enjoys baking and cooking and being active.
Jen has been in the eyecare field for 4 years. She is planning on getting her ABO Certification.
---
Sheyenne, Patient Care Representative
Sheyanne joined Front Range Eye Associates in early 2023. She is new to the Optometry field and is eager and excited to continue to learn and grow with our FREA family.
In her free time Sheyanne enjoys staying active, being outdoors, camping, and paddle boarding with her husband and two daughters.
---
Michele, Billing Coordinator
Michele started with Front Range Eye Associates (FREA) in 2013 as an Optician and really enjoyed finding the right frame and fit for patients, as well making sure they received the best lenses to enhance their vision.
After taking a hiatus for 2 years to pursue her own business venture, she could not stay away from her FREA Family and rejoined them in 2018. Her job has evolved into all things billing and FREA's day to day claim activity. She takes great pride in making sure that our billing is a seamless process from start to finish and that our patients have a good billing experience.
In her free time, you will find her spending time with her dogs, doing macrame, going to Pilates and soaking up her daughter, family and precious grandson.
---
Stefani, Lab Operations Manager, Certified Optician, ABOC
"Serving my community is just one of my passions!" Stefani has been serving the Adams-Broomfield counties since 2007 after graduating from Metropolitan State University of Denver with a Bachelors of Science in Human Services with an Emphasis in Counseling and Mental Health and later a Masters of Arts in Forensic Psychology from Argosy University. Between 2007 and 2013 she served as a NOVA certified Crisis Interventionalist and Victim Advocate primarily with children and families.
Stefani left child victim advocacy seeking new experiences with a helping profession and began her optical journey 2014. After graduating with honors and an Associates of Applied Science from PIMA Medical Institute's accelerated Ophthalmic Medical Technician in July 2015 she continued working with children at a pediatric focused optometry practice. Here she was immersed in many aspects of vision ultimately focusing on the optical department as in combined her clinical experience with her love of empowering patients to see, look, and feel their best! After many years of practice as an optician Stefani felt emboldened to make it official and become ABO certified in December 2022.
Other passions Stefani enjoys are adventuring with her family and pets, reading, and leading her daughters Girl Scout troop.
---
Yesenia, Frame Sylist
Yesenia joined Frea in 2022. She enjoys connecting and interacting with patients, and creating a space for them to find that perfect pair of glasses.
In her free time she enjoys being active outdoors with her two beautiful girls, reading a good soulful book, pilates, yoga, and rollerblading.
---
Anisha, Optometric Technician
Anisha joined the FREA team in 2022 shortly after graduating from CU Boulder with a Bachelor's degree in Integrative Physiology. She is a Certified Phlebotomist and a Certified Paraoptometric. In the near future Anisha plans to pursue a career as a Physician Assistant or Optometrist.
In her free time she enjoys traveling, running, skiing, playing soccer and spending time with family and friends.
---
Vanessa, Optometric Technician
Vanessa joined the FREA team in 2022 after graduating from the University of San Francisco with a Bachelor's degree in Biology with minors in Chemistry and Asian Studies. She has her CNA license and is BLS certified and hopes to earn her ParaOptometric certification this year. In the near future Vanessa has plans to go to medical school.
In her free time she enjoys traveling, art, video games and spending time with friends.
---
Katie, Optometric Technician
---
Doctoral Student, University of California Berkeley, Extern
---
Veronica, Frame Stylist
Veronica brings over 23 years of Optical experience to Front Range Eye Associates. She delivers a wealth of frame styling and knowledge to the table. For her, it is all about patient care and bringing joy to the optical world. She thoroughly enjoys connecting with everyone that sits down with her, allowing her to create a personalized shopping experience for every patient.
During her free time, she enjoys fishing, camping and all things outdoors with her 2 wonderful daughters.
---
Emmy, Optometric Technician
Emmy joined Front Range Eye Associates in 2023 after graduating from Metropolitan State University of Denver with a bachelors of arts in biology. Shortly after she completed medical assistant schooling and became a certified clinical medical assistant. In the near future Emmy has plans to go to Physician Assistant school.
In her free time she enjoys gardening, reading, cooking and baking, traveling and exploring with friends and family.
---